Hi All Foden Builders,

We are intending to send out everything we have currently manufactured for Kits 19 & 20 on Thursday 2nd October.

The list of items we expect to despatch are as follows:

F42015 Adjusting Shaft
F42016 Shaft End Piece
F42020 19T Sprocket
F42021 13T Sprocket
F42101 End Cover Guard Assembly
F42109 Gear Selector Handle (x2)
F42110 2nd Shaft Oil Nipple
F42111 2nd Shaft Oiler Assembly
F42112 2nd Shaft Oiler Cap
F42113 Front Gear Guard Assembly
F42115 Access Cover
F42116 Cover Handle
F42114 Chain Guard Assembly
F42117 Rear Chain Guard
F41831 Flywheel
F41832 Flywheel Securing Collar
F42126 3/8" x 32 Plug
F42128 Valve Chamber Cap (x2)
F42131 Pump Eccentric
F42132 Eccentric Shaft
F42133 Eccentric Shaft Washer
F42134 Eccentric Strap
F42137 Eccentric Strap Oiler Cover
F42139 Water Pump Vent Pipe

Should we complete or manufacture anything else before the despatch date then we will also add these to the kit.

Regards

Dean & Steve
Looking through the list of parts it looks like we will be short of the surrounding parts to make full use of them. I would like to know when we can expect the balance of kit 19? Are these weeks or months away? Are we still on track for completion by the year end?

Julia




Number of posts

: 71


Location

: South East England


Registration date :

2008-06-17



Hi Julia,

The plan is still to complete the Foden by Christmas. The last production update stated this and we plan to do everything in our power to make this achievable.

It is not our intention to deliver the Foden as a Kit 19, Kit 20 etc, we plan to despatch whatever is available for the remainder of the parts at the end of each month. We will then charge accordingly for only the parts we have manufactured and despatched. This way customers only pay for what they receive and at the same time move slightly closer to completion.

When we have an idea of what parts will be available at the end of October i will list them on the forum for all to see. All being well it will include the remainder of the gears.

All the best

Dean
It is great news that at last we will be receiving more parts for the Foden albeit that many can't be fitted yet as many of us are still awaiting the cylinder block and crankshaft. Assuming that you will require payment before despatch of these parts when will you notify us how much to make the cheque payable for.

gulfstream




Number of posts

: 34


Location

: LEICESTERSHIRE (FODEN)


Registration date :

2008-06-15



Hi Gulfsteam

Have a look under the topic "STW and Modelworks" then the next level down " Kit despatch and payment methods". The items made so far for the Foden are likely to be despatched this week, using the proposed method to all customers who have returned their form to us.

There will be a few things you can do with the parts. The Main Gear and Chain Guards will be included. These will take some time to fit properly, clean up and paint.

Regards

Steve
Good Morning All Foden Builders,

We have some good news and bad news. The good news is all the parts Dean listed previously are ready for despatch, the bad news is they have not all been packed yet. The reason for this brings me to the second bit of good news for all customers waiting for Crankshafts. Dean & Co. have been machining Cranks for a little while and now realise they will fit in the box with the other parts, they have therefore made the decision to delay the kit by a week and despatch by next Thursday. I hope you are not too disappointed and we will keep you up to date with any developments.

Best wishes

Isabel
Hi All,
The first 18 kits of the Foden have now been packed and will be despatched from tomorrow. Below is a couple of photo's, one is of the flywheels and gear guards in packing waiting to be boxed up and the other is of the crank axles just before they are going on to the milling machine to have the keyways put in.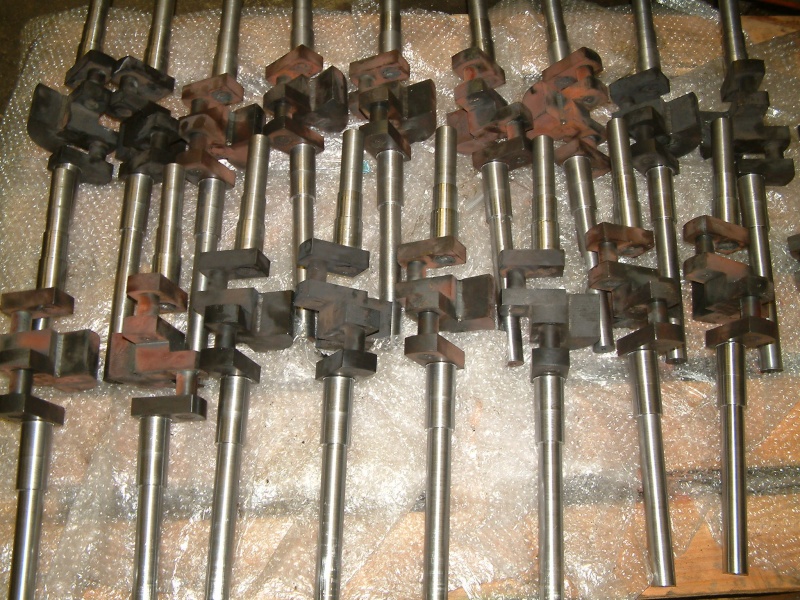 Invoices will be enclosed in the kit and payment by return would be appreciated.
All the best
Dean & Steve
What a day to remember. Interlink brought good news today with the arrival of the crankshaft, flywheel, chain guards and other parts. The project is now on the move again. Also included was the much awaited paperwork for the boiler.

This is the first kit since the end of May and the demise of Modelworks. I have been keeping myself busy with fabricated the side and back of the load platform and more recently the cab roof and a large goods carrying box back. Now with the arrival of more mechanical parts I will have get on and get the cab and box finished.

Well done Steve and Dean

gulfstream




Number of posts

: 34


Location

: LEICESTERSHIRE (FODEN)


Registration date :

2008-06-15



Can we have a update on the next instalment of Foden parts.

Julia




Number of posts

: 71


Location

: South East England


Registration date :

2008-06-17



---
Permissions in this forum:
You
cannot
reply to topics in this forum