Hi,
Just thought I would post a few images of some issues that we have had with the build recently to hopefully help other builders.
As mentioned elsewhere the steering fouled the firebox when fitted.
" />
To remedy this we have slotted the brackets on the steering box to allow us to move the steering forwards.
" />
The next issue we encountered was that the brackets for the gear shift plate fouled the bearing cradles on the horn plates and so we needed to mill these to solve this.
Having done this we also needed to trim the bottom end as this fouled the boiler.
The next issue we found is that when fitting the gear assembly to the second shaft the bolts for the bearing cradles on the horn plate foul the cog and prevent it pushing fully over against the boss on the back of the gears, I forgot to take a photo of this but the image below is of the screws changed to counter sunk (these are temporary screws they will be replaced after disassembly).
" />
As can be seen below there is still minimal clearance with the countersunk screws but at least everything fits now.
Thanks for looking
Cheers
Nick + Ken

FodenSWB




Number of posts

: 27


Location

: Tewkesbury


Registration date :

2012-08-31



Thank you Nick + Ken for posting the pictures. looks like i will have something to look forward to in the kits to come.
It is very useful know these little problems in advance.
Thanks again.

Phil.
Last edited by phil gomez on Mon 22 Dec 2014, 10:15 am; edited 1 time in total (Reason for editing : added text)

phil gomez




Number of posts

: 150


Location

: pagham, west sussex


Registration date :

2014-03-15



Hi Nick and Ken
Are you sure that moving the steering box forward will still allow the bracket that goes around the column to be fitted at the correct angle.  Looking at mine if I had moved the box forward than I would have had problems fitting the bracket, you may need to make a spacer for it.  I ground a bit off the fixed steering arm to give enough clearance.
Never had any of the other clearance problems that you are experiencing although I did have to modify the left hand boiler brackets due to a clash with the water pump pipework.
Regards the steering, I made an extension for the steering wheel.  It makes moving the engine around in the garage a lot easier (in fact I now leave mine on permanently).
This pic also shows the steering problem bracket that may give you a problem.
All the best
Tom

atomenter




Number of posts

: 175


Location

: FIFE


Registration date :

2008-06-26



Hi Tom,
We looked at grinding it but could not turn onto centre from left lock so grinding out would be problematic as we would have had to take a large amount out of the arm to be able to get the wheels to right lock, the photo does not really convey how significant the clash was. Some other posters have already moved the box and have as you say had to make a spacer/shim for the bracket which we will address at that point. Will have to look at the steering extension as it is a little on the energetic side at the moment turning the wheels although having put some more air in the tyres has made it easier and also a little nervous as the steering does not have the extra support from the afore mentioned bracket so tends to flex the column a little.

Cheers
Nick + Ken

FodenSWB




Number of posts

: 27


Location

: Tewkesbury


Registration date :

2012-08-31



Hi again
Depending on when you are likely to receive the kit with the column bracket it may be worthwhile making a temporary support.  I did and it served me well until the "real" one arrived
Regards
Tom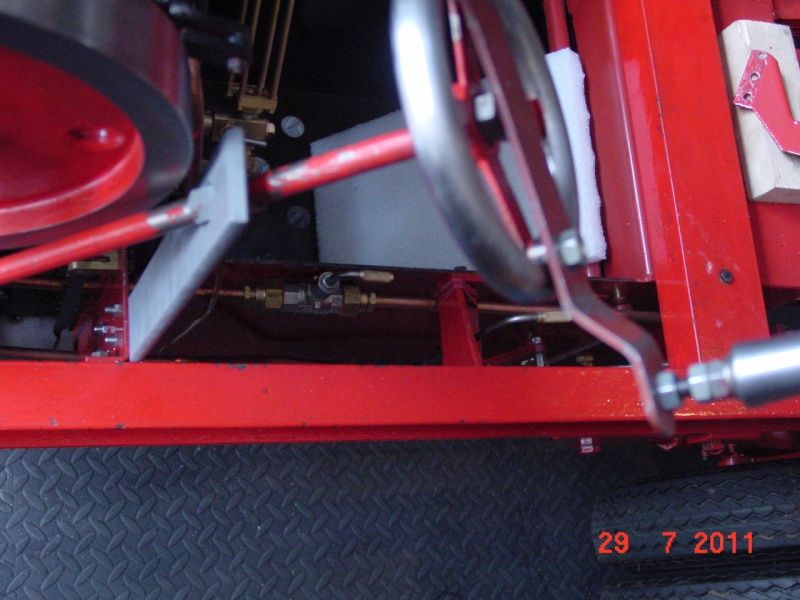 atomenter




Number of posts

: 175


Location

: FIFE


Registration date :

2008-06-26



Hi Tom,
Trust your well young man, well I can honestly say that I didn't have any issues with my steering box I did however grind off half of the bolt heads that sit behind the gear but that was just to increase the clearance as they just touched.
Its seems funny how these engines are very individual little beasties, about the only thing I can remember having to cut was the rear leaf springs as the fouled the bracket other than that pretty much trouble free.
That said I still haven't managed to get my injector working I will have to have another go at sorting it again later but the pump does such a good job I haven't bothered, Oh yeah I forgot to mention I've started a 6" Foden "F" type build now I must be a glutton
Sorry lads didn't mean to hijack your thread its nice to see your build progress it kind of brings back memories keep up the good work and Merry Christmas.
Ian

Vapor




Number of posts

: 378


Age

: 110


Location

: Isle of Wight (2" Burrell & 5" Duchess ex MW)


Registration date :

2008-06-18



Hi Nick , Ken
I did notice that problem last week when assembling the 2nd shaft gears on the control model at STW, have countersunk the holes and replaced them with countersink fasteners on the ones in stock! A few may have slipped through without this happening, easy to remedy but please DO contact STW if you encounter this problem or need replacement fasteners etc.
Ryan

ryan@STW




Number of posts

: 2


Location

: Northamptonshire


Registration date :

2014-12-23



Ryan,
Not a problem as I countersunk them myself and have access to fasteners fairly easily. Already have replacement ones ready for when it is stripped as I only had stainless A2 ones on hand over the weekend have a good Christmas.

Cheers
Nick + Ken

FodenSWB




Number of posts

: 27


Location

: Tewkesbury


Registration date :

2012-08-31



Hello,
Okay glad to hear you have it sorted, your model is looking great! Merry Christmas to you!
Ryan

ryan@STW




Number of posts

: 2


Location

: Northamptonshire


Registration date :

2014-12-23



---
Permissions in this forum:
You
cannot
reply to topics in this forum