Hi
Am having trouble getting a good enough finish on the wheel spokes using a brush - have decided that I will have to resort to spraying the wheels. Can anyone recommend a reasonably priced and easy to use spraygun for a novice? Am using Craftmaster paint which is very good and forgiving but I keep on getting too many rough edges.
Thanks,
Simon

simonbos




Number of posts

: 68


Location

: essex


Registration date :

2012-09-20



is the area you are painting warm enough?

Warming the tin will also let the paint flow better too

When I painted my wheels I supported them between axle stands and kept rotating them so avoiding any runs.

Not forgetting the surface you are painting needs to be smooth and clean ,preparation is key, any imperfections will show through

You need to put plenty of paint on dont work it too dry, level it off and work quickly

Try to work in a clean an area as possible,dust can be a right problem

Im no expert but thats how I did mine

Hope this helps

Kev






Kevster




Number of posts

: 418


Location

: Hertfordshire 4 inch; DCC road loco


Registration date :

2011-01-27



Hi Simon,
As has been said, preparation is key!!
I have sprayed one set of wheels on my Ag engine & hand painted the wheels on my Showmans. Both methods have their difficulties.
If you hand paint, you have to work fast, brushing out the paint & keep checking for uniformity & runs especialy round joints & rivet heads etc. Took me at least two & half hours per coat to paint both Showmans rear wheels, once you start you gotta keep going!!
If you spray, you have to mask off everything you don't want covered in paint!! It's almost impossible to get the paint into all the difficult areas round the rim & spokes without getting runs & an even coat (unless you can use electrostatic spraying technology!!) Although the paint application is quite quick, the clean up time etc actually takes alot longer.
If I were doing another engine, I'd recomend you perfect the hand brushing, particularly for wheels, cos I gotta say, my Showmans wheels look better than the Agricultural engine wheels, the paint has a greater "depth" of shine to it.
I do spray large flatish areas, like horn plates, spectical plates & cleading etc, but always apply the varnish with a brush.
All the paints I use are Craftmaster, which are at their best when hand painted. If spraying you have to dilute with their thinners (10%)
which I think has a very small effect on the "depth of shine".
If you wish to spray then go for best equipment you can afford!! I personnally have gone over to HVLP (high volume low pressure) equipment, as this is a far more efficient way of getting most of the paint onto the object you are painting, & minimises great clouds of fine over spray!!
The equipment I use & can recommend is supplied by Axminst tools.... They do a range of HVLP spray equipment by FUJI.... It's professional stuff, they do two, three & four stage turbines to provide the air & the spray guns are absolutely brilliant!!
I've had my four stage turbine equipment for 6 years now & have painted everything from my Landrover, longcase clock cases(varnish, well shellack) & loads of other stuff & of course traction engine bits!!!
Hope this helps,
Regards,
Tony



Tony King




Number of posts

: 856


Age

: 64


Location

: scotland


Registration date :

2008-10-31



Simon, That should read AXMINSTER TOOLS!! ..Not Axminst

Tony King




Number of posts

: 856


Age

: 64


Location

: scotland


Registration date :

2008-10-31



Im going to add my bit in here because i had a lot of problems with paint first of spraying rear wheels is a lot easier for me over front wheels because you have more space. If your going to get your self a gun look at a few other things one is the amount of cfm you compressor is going to put out and the tip size of your gun i would recommend about a 0.8mm to 1.00mm along with some thing that can give a good fan size this will help you blow paint under the spoke palms close to the rims i use a devilbiss sri pro for small areas like wheel's
Next up some thing iv learnt is mixing in 10% of one of thinner over one other type of thinner will not give you the same paint viscosity you may need to add 15% of the second to get the same viscosity as the first and there is in fact different speed thinners that allow for paint to run out more before it evaporates leaving a smoother finish with no runs because you can use less thinner to make it flow witch has the added bounces of less air burn paint so less waste and overspray and yes you can use this thinner in the all mighty there is nothing else in the world but cratmaster paint because it's made by the same company that makes it it has the same base ingredients the lot so you get full shine no dulling.
Iv put the time and lots of money in to fixing my paint problems not spent time working round them like cooking my parts ? if you want help PM me and ill give you a number to ring in the mean time get on you tube and look at all the sata training vids if you want to lean real spray painting that's a good place to start
[img]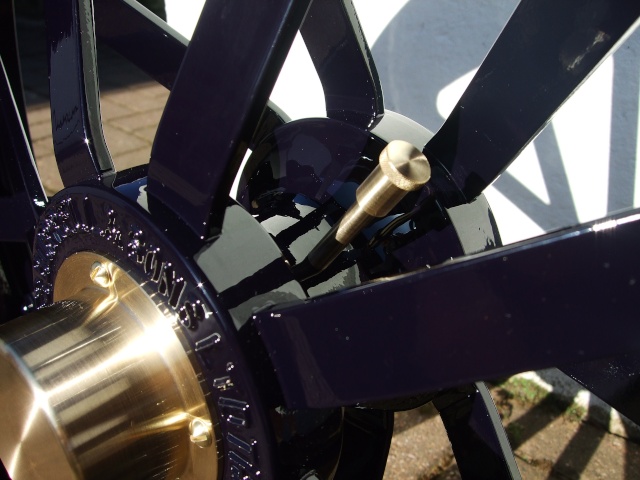 [/img]
Gotta say that picture speaks for itself......... Very nice....... good advice!
Regards,
Tony

Tony King




Number of posts

: 856


Age

: 64


Location

: scotland


Registration date :

2008-10-31



I have to agree,

If you can perfect the brush painting its much quicker and easier than spray painting

less masking,no overspray to contend with too

deeper thickness of paint also

I too prefer to brush as much as I can

Kev



Kevster




Number of posts

: 418


Location

: Hertfordshire 4 inch; DCC road loco


Registration date :

2011-01-27



A good reply from hudmut,

I have seen his engine and I can vouch for his paint work, looks like glass. A real nice job. I would say that although there is more equipment needed to spray I think that when it comes down to it there isn't a lot between brushing and spraying skill wise. to be able to hand paint and reach a deep and brush mark free finish is a skilled job. having said that spraying can be the same, trying to keep all the edges wet and get them to blend is also a great skill. speed is the key really. get the paint on and then leave it,

equipment wise it doesn't have to the the most expensive out there, I have several guns some very expensive others quite cheap, there are pros and cons to each. but i have found once you know the gun you have you can make it work for you just as well.

I brought one of these guns, and I have to say that it performs rather well for its price. yes its cheap but it works just as well as my mid range guns its just smaller. really good for all those spokes.

http://www.ebay.co.uk/itm/Hvlp-Gravity-Spray-Gun-0-8-Needle-FMT3600-Smart-Repair-Stainless-Set-Up-/221089839020?pt=UK_Body_Shop_Supplies_Paint&hash=item3379fb37ac

the only other thing that you need is a good filter, regulator and water trap, I would spend money here. as water in your paint is the last thing you want. This one is not ideal, but you get the idea:

http://www.ebay.co.uk/itm/Air-Line-Pressure-Regulator-Water-Trap-1-4-BSP-Air-Compressor-Sil110-/221168929348?pt=UK_Air_Tools_and_Compressors&hash=item337eb20a44

Ryan

Weston




Number of posts

: 64


Age

: 32


Location

: Beds


Registration date :

2011-11-04



I'd agree with Ryan. I have a very similar gun and its great. Although my compressor has a built in regulator I didn't have a water trap when I started and had real problems as some will remember, but once fitted it was fine.
Close to mine but mine was £89.

Water trap is essential and also blow down the tank before each spray session. I normally blow my compressor down to ambient after each day use.
---
Permissions in this forum:
You
cannot
reply to topics in this forum