I hope these pictures help anyone still building!
Today i started the final assembly of all the parts that were removed for painting etc.
I hope to get the diff and gear guards on tomorrow so i can get the wheels on!
LHS view
RHS view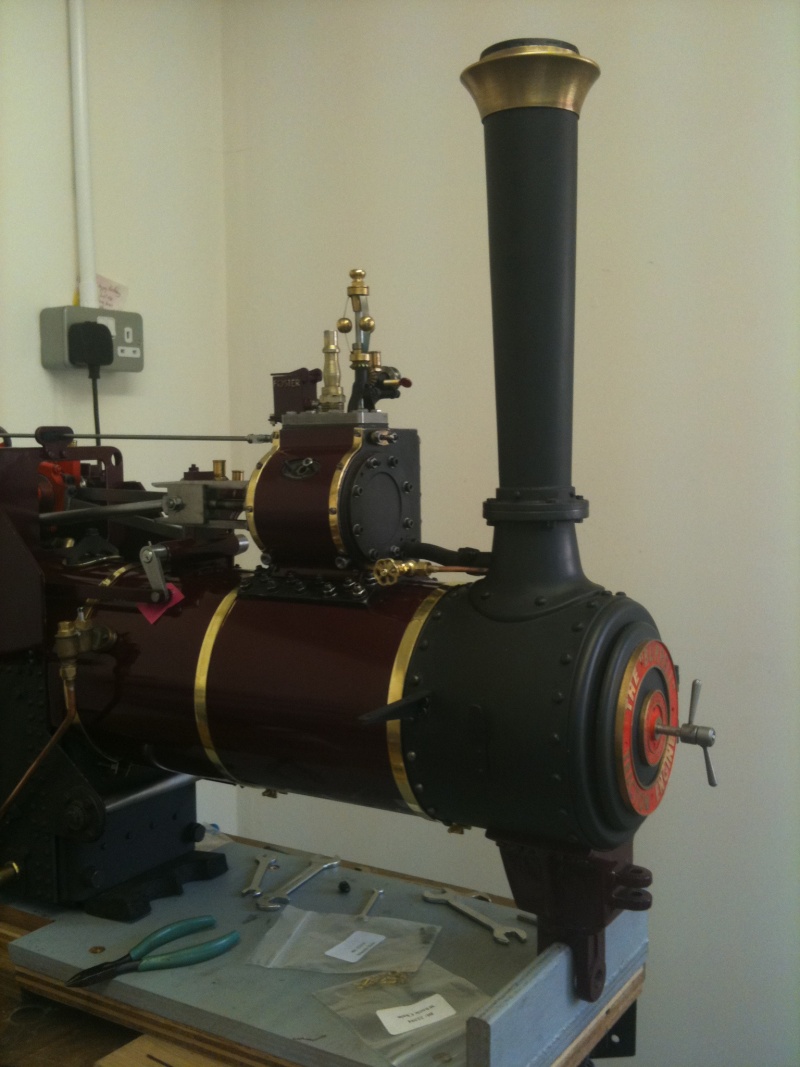 blower valve and blast pipe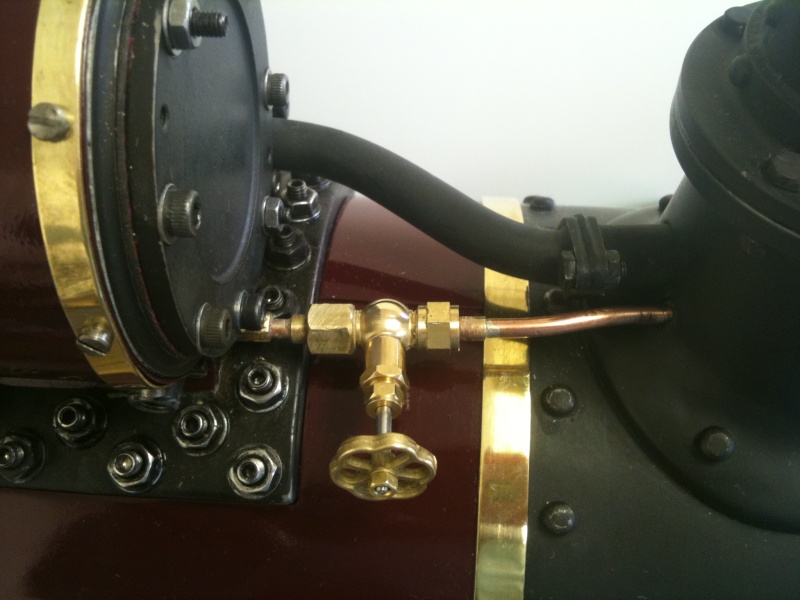 top view of boiler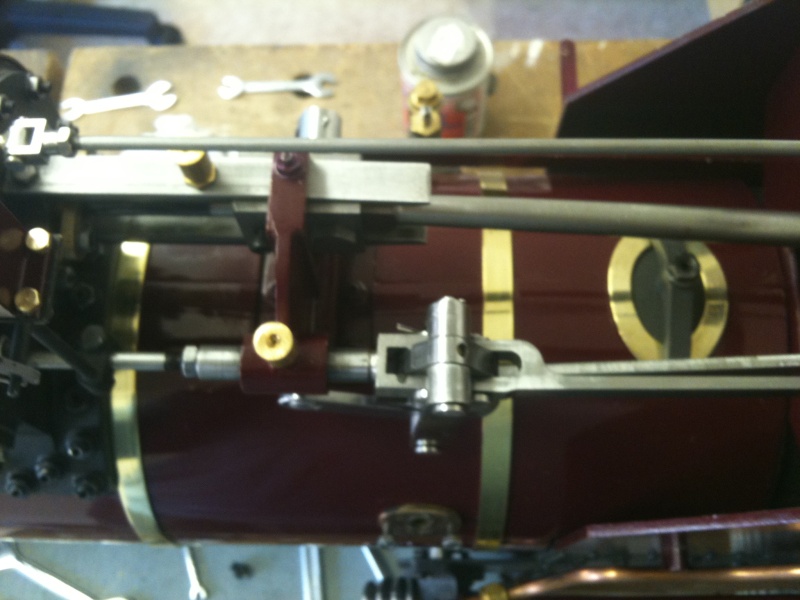 valve gear
Gear change!
I am using some mollyslip on the splines, they are not glued in atm, do not think i will need to glue as the washer on the end holds them in place. we will see if this method works when she is running!
one question what is the best way of filling the boiler with water, and how much water does she hold up to the min level / max level. Is the bottom of the sight gauge glass level with the top of the firebox?
More pictures tomorrow! if there is something anyone wants to see a close up of just ask!
Jon[/quote]

forge




Number of posts

: 107


Location

: Norfolk (2" Burrell)


Registration date :

2008-07-01



Hi,

We have a 2" minnie traction engine and we fill that through the blow down valve with a 2' long bit of hose with a funnel on one end. Just hold the funnel above boiler level and let gravity do the rest. With regard to how much water, i would start with about 1/2 a gauge glass full as this will rise up the gauge as the engine heats up.

The boiler certificate should tell you how much water to fully fill the boiler and the bottom of the water gauge should be just above the top of the fire box so that aslong as there is water in the gauge the top of the firebox should be ok.

Hope this makes sense and regards

Andy

PS- wish my burrell was this far on.

andyc




Number of posts

: 43


Location

: cambs


Registration date :

2010-03-02



Hello.

I filled my boiler with water at the weekend and used the following method.
I removed one of the front boiler drain plugs and attached an air line via a globe valve, I then ran the engine at about 20psi and used the engines own water pump to fill the boiler. This method served two other purposes in that it proved that the pump worked satisfactoily prior to steaming and that the tender was watertight, all I had to do then was just keep topping up the tender with a jug.
By only running at 20psi once the boiler started to fill up the air just gently bubled up through the water with no problems.
My hopes of steaming the engine on Bank Holiday Monday were thwarted over here in Lincolnshire by the weather.

Malcolm,

malcolm




Number of posts

: 18


Location

: Holbeach, Lincolnshire [ 2" Burrell ]


Registration date :

2008-06-17



Hi Malcom,

I live in Peterborough and was wondering if you are doing any of the local rallies with your engine.

regards

Andy

andyc




Number of posts

: 43


Location

: cambs


Registration date :

2010-03-02



Hello Andy

To date I have got bookings for four local rallies for this season,these being Donnington Country and vintage show 12th and 13th June[I dont think there is much steam here but going by being asked at a rally last year]
19th and20th June Holbeach vintage rally[again a small local rally]
10th and 11th JulyWalpole steam and country Fair.
11th and 12th September Bicker Steam Threshing
I have also applied for Boston Steam and Vintage festival on 4th and 5th of September but still waiting for a reply.
I have entered these rallies as a static display as I have not yet aquired a boiler certificte but I also have a 1" scale Burrell ploughing engine and a 2" scale Powell straw baler which I also take, I usually have the two engines running via a small compressor and a generator.

Thank you for the interest.

Malcolm,

malcolm




Number of posts

: 18


Location

: Holbeach, Lincolnshire [ 2" Burrell ]


Registration date :

2008-06-17



Hi Malcolm,

As you're not too far away sacrewell farm is quite a good one www.peterboroughsme.co.uk/Events/Sac09.pdf

Usually 50 plus minitures there. We will be there with dad's 2" engine and the weather always seems to be good for this one.

regards

Andy

andyc




Number of posts

: 43


Location

: cambs


Registration date :

2010-03-02



Just realised the link is for last year. This is this years link.

www.sacrewell.org.uk/articles/templates/events.asp?articleid=15&zoneid=7

regards

Andy

andyc




Number of posts

: 43


Location

: cambs


Registration date :

2010-03-02



I have been doing a quick air test today. Pressurised boiler up to aprox 40psi
Only a few issues seen
1. Water pump pipe leaking - Ferrule requires re braising

2. Whistle valve leaking
Has any one else had this problem, my valve is not seating properly so needs some attention, any ideas as to how to fix this would be helpful.

3. Main gear / differential – shims needed behind the diff.

4. Regulator needs some adjustment to improve slow speed control.

very pleased with progress!!!
thanks STW for a very nice engine.
Jon

forge




Number of posts

: 107


Location

: Norfolk (2" Burrell)


Registration date :

2008-07-01



happy that your happy jon
if you don't get any joy with your questions, give Steve a ring direct
craig

craig@STW




Number of posts

: 1410


Location

: location Location


Registration date :

2010-05-06



Similar topics
---
Permissions in this forum:
You
cannot
reply to topics in this forum