Following on from the success of the Stearne's centre organ and having a lot of down time at the moment I decided to make a Showmans version of the organ suitable for 4" engines. It is difficult to describe adequately what I wanted to acheive so thought if I make one then it can demonstrate clearly what could be done. This particular model is the full spec 65 note, all bells and whistles version ( although there are neither bells or whisltes in this one just lots of bloody pipes!!!!! ) When totally complete it will have two ranks of melody bourdons, tuned celeste with a damper for one rank to silence them, a set of 22 piccolo pipes, and 22 note glock. There will be a snare drum but I am undecided about a bass drum due to the size. There are 24 accompaniment pipes and 16 bass set at 2' and 4' and finally 28 counter melody using a rank of open and stopped pipes.
It is able to run completely on 12v for the fan and midi control meaning it can be taken anywhere with a suitable battery or possibly run from the engine if it produces a suitable voltage ( a car 12v alternator springs to mind here but that depends on what STW do for the dynamo ) There is now a good range of fairly hefty capacity sealed lead acid batteries around and I reckon a 44 Ah would give a full days running but I intend to buy one and try it out to test and verify things.
Although this has been built to proof all the dimensions and to use as a demonstrator it has been built with the intention of selling. I have used the best quality solenoids available from Kimber Allen and I have refined and altered my pipe design to give very solid strong notes which really show with this instrument, although I would say so this is without doubt the best instrument I have built to date and has a superb sound which will really stand out on a rally field and in the current style of trailer will look just right too. It will be finished in a colour close to Burrell Plum and will have subtle lining on but could just as easily be finished in any colour. The dimensions are deliberatly kept to a minimum to enable realtively easy transport, having lugged the earlier version through the house with great difficulty this has been made with all these things in mind. It is 100 cm high, 125 cm long and 55cm wide, on pneumatic tyres and has steering.
If anyone is interested in discussing options for the next year, or further ahead then email me at vollerorgans@gmail.com and we can discuss size, pipe numbers, spec, price, delivery etc. If anyone is visiting the Portsmouth Historic Dockyard on the 1 and 2 of December for the Victorian Festival of Xmas I will be there with it playing and as finished as I can get it and also with the engine.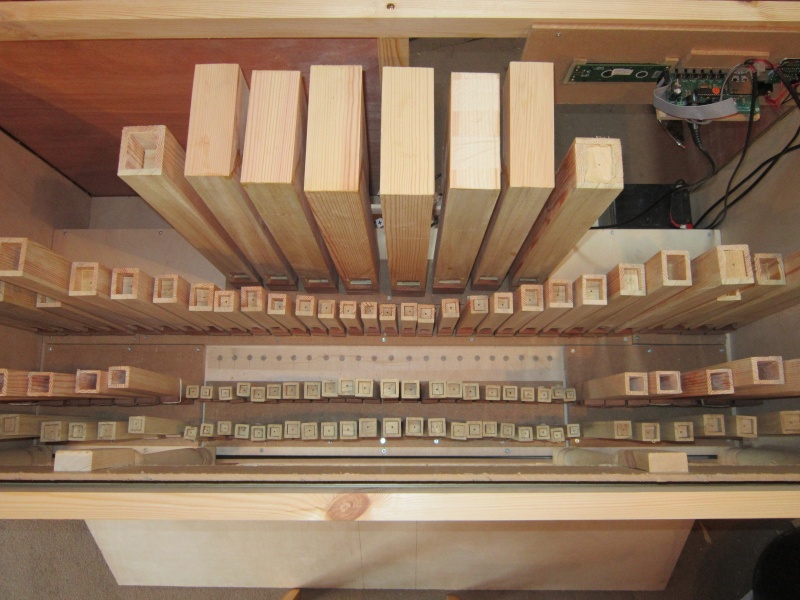 Enough pipes to play but the open row will be for the piccolos, after making 112 I had lost the will to live and just wanted to hear it play.
Kev:
For someone so short of patience - or so it would seem, it amazes me how you make these organs!

Look forward to meeting up in Portsmouth.

Tim

Tim Watson




Number of posts

: 582


Location

: Herts


Registration date :

2008-07-02



Trust me a number of pipes have been "beaten to death" when things arent going right but I can easily make a new one!! If I damage stuff STW make I have to phone up and sheepishly ask for a new bit. Besides I really enjoy taking just a straight plank of wood and shaping it and making it sing. Once I get to this point I almost play the thing constantly to test all the bits and to enjoy the sound. I may have found my vocation just need to sell lots!!! It's much nicer than climbing on a roof when it's cold and raining.
Hi Kev

Where do you get your reader and decoder boards from.

I am just about to embark on building a Topsy3 and looking for supplies.

I am thinking of using Basswood for the pipes and Teak for the hardwood requirements. The teak has been in the garage for 20 plus years so should be nicely seasoned. There may even be enough to make at least the fronts of the pipes also.

lynnr




Number of posts

: 3165


Age

: 52


Location

: Highland, 4inch showman


Registration date :

2010-08-06



Stunning piece of woodwork Kev, when will we see and hear the YouTube video?

Mike

mikero




Number of posts

: 258


Location

: Brighton


Registration date :

2011-07-19



Shouldnt be long, just finalising the power etc.

Lynn, there is a guy listing players on Ebay, cheapest price you are likely to find them, he also sells cheap solenoids which will probaly do OK for a Topsy. The decoder board comes from J Omega, google search should find them.
---
Permissions in this forum:
You
cannot
reply to topics in this forum