Hi Foden Builders,
The cylinder blocks are still running on our large CNC mill. There are only two drilling operations to complete and we will then be able to press the liners in place. We should be able to despatch the cylinders to the 12 customers who require them towards the later part of next week (before 13th March). A couple of photo's are below: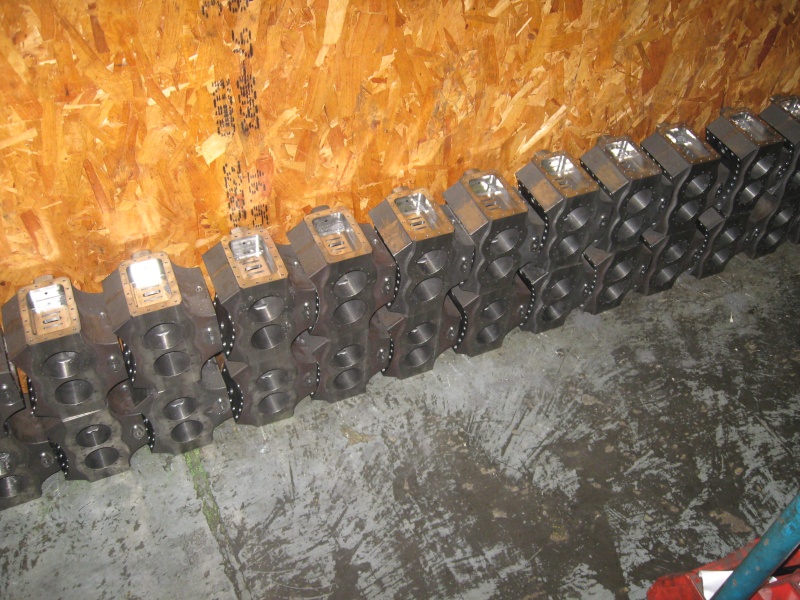 Regards
Dean & Steve
Today was a real milestone for many of us who have been awaiting the Foden cylinder block. The carrier arrived this morning and I could not wait to get the box open and place the machined cylinder block on the saddle on top of the boiler. It was perfect fit and looked great and even better the standard of machining was really good and there doesn't appear to be much cleaning up to do before assembly. I will be working as many hours as possible this weekend to get it all together and I am hoping that by next weekend I will be able to get things turning on compressed air and then it shouldn't be long before the model is complete and ready for a hydraulic and steam test.

Well done Steve and Dean and all your staff, not forgetting Isobel who has had the task of doing the invoices, arrnaging the carriers and collecting the payments.

Paul R

gulfstream




Number of posts

: 34


Location

: LEICESTERSHIRE (FODEN)


Registration date :

2008-06-15



This weekend I reached a milestone in the construction of my Foden in that I, after a few mods here and there, had the engine running on air for a few hours. I had a number of anxious moments when there were a number of unwanted knocks from the motion and a bit of stiffness but after a bit of adjustment I had it running for a number of hours reasonable smoothly, or least in forward gear, but in reverse it was not as sweet but as Steve says reverse is not as important as forward.

After a few hours running on air and loads of lubrication it was running well in all positions of the reverser in forward gear. Nothing much happened in the first position reverse but between the second and third position it ran okay and to get a bit more I filed the end stop on the reverser flat on one side.

I have changed the grub screws on the layshaft to small bolts and also pinned the lever as I found all these moved a bit on the flats on the shaft.

After a few hours running even a few pounds of air pressure will keep the engine turning over and it was loose enough to turn it by hand by hand turning the crankshaft.

Can't wait to get the gears and the boiler fittings so that I can progress to get the boiler checked out and get into steam at last.

gulfstream




Number of posts

: 34


Location

: LEICESTERSHIRE (FODEN)


Registration date :

2008-06-15



Further to my earlier post re fitting my Foden cylinder block, motion, crankshaft etc and then running the engine on air for a while I have now had strip it all down again.

The boiler inspectors on the Melton Mowbray Model Engineering Club told me that before they can do a steam test the boiler and cylinder block must be pressure tested by them to 1.5 times working pressure, in my case 210psi. They do, however, recommend that you get a pressure test done before assembling the cylinder block so that you can be sure that the seals between the boiler and block and the cylinder block is pressure tight.

In my case I did a test after assembly and even at 50psi there were major leaks on the cylinder block hence the reason that I had to strip it all down and remove the block from the boiler and start all over again.

All this may seem second nature to experienced builders but to first time builders it comes as a bit of a shock that you have to do it all again - so be warned, double check everything before moving on to the next operation.

gulfstream




Number of posts

: 34


Location

: LEICESTERSHIRE (FODEN)


Registration date :

2008-06-15



---
Permissions in this forum:
You
cannot
reply to topics in this forum