Hi All,

We are seriously considering our next new release being a 6" scale Foden.

We would probably do it as both the 'C' Type version and the Short Wheel Base Version. Size wise it would be a big engine (11.5 feet 'C' type, almost 8 feet SWB), weigh just over a ton and be a true compound engine. With a working pressure of 170 psi+, a boiler diameter of around 14 inches and three speed it would certainly be impressive.

A ball park figure for the first 10 customers who jump in early and take advantage of discounted price would be around £22k (this would include the new VAT rate). For the next 10 orders the price would rise to around £25k with the final price once in production around £28k.

As with our Road Loco/Showmans Traction Engine we would look to despatch this over 30 kits or quicker if enough customers requested.

The release should tie in nicely with 4.5" version reaching completion early next year.

Any views or thoughts below would be welcome.

All the best

Dean & Steve.
Hi Guys
Preumably it would be about the size of Sandy Steele's which I believe is a 6 inch: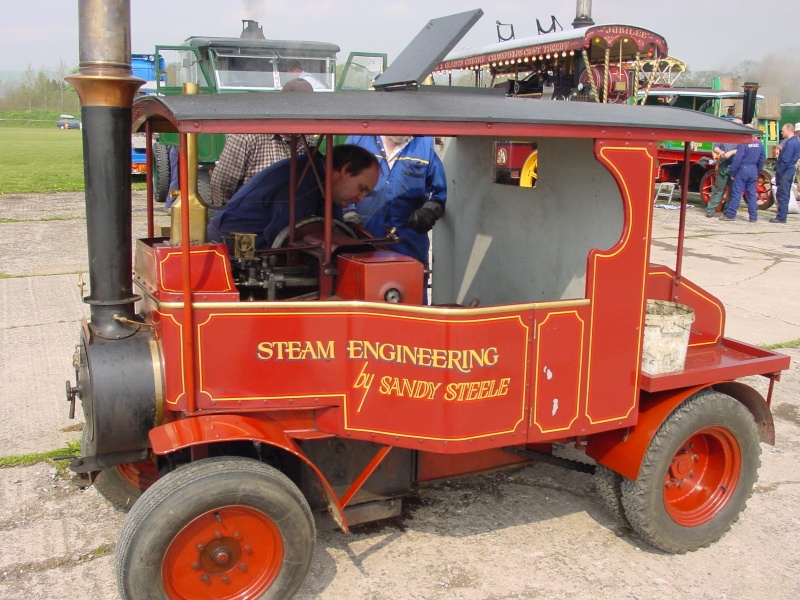 Regards
Tom A

atomenter




Number of posts

: 176


Location

: FIFE


Registration date :

2008-06-26



Hum. would love one to go with the 4" showman now in production.
BUT!
I think father would have a hairy fit as it would mean he looses his garage for keeping his car.

lynnr




Number of posts

: 3145


Age

: 52


Location

: Highland, 4inch showman


Registration date :

2010-08-06



Very interesting, I could tell her indoors that my SWB had had a big baby, wonder if she'd believe me
, Dean what about a full size one now that would be good cos even a FB like me could sit inside and drive it proper
Very tempted but i'd be even more tempted with a 12" scale one

Vapor




Number of posts

: 378


Age

: 110


Location

: Isle of Wight (2" Burrell & 5" Duchess ex MW)


Registration date :

2008-06-18



Would love to see that one go ahead guys, As you know, If only time permitted.
Life is a bitch

hharrop




Number of posts

: 7


Location

: Sutherland Forsinard


Registration date :

2008-06-17



Hi Steve

Great news - You can put my name down for a 6" scale SWB Foden Lorry. This will make a great retirement project.


Bill

burrell1




Number of posts

: 156


Location

: Clacton, Essex


Registration date :

2008-06-19



Hi chaps,

Would certainly be interested in one of these.

Could you let me know what sort of payment terms you were thinking?

This would be perfect for me.

Thanks,

Ollie

olliemdj




Number of posts

: 3


Age

: 37


Location

: Bradford, A.K.A Cold, Wet and Rainy


Registration date :

2009-05-23



Hi,

Pricing if you get in early is as follows:

Deposit £1495.00

Kits 1 - 30 at £683.33 each. All pricing inclusive of VAT (based on 20% VAT rate) and delivery.

We are also going to try something new on this model and offer customers a flexible deposit. This means that a customer can pay a deposit in excess £995.00 and their monthly payments can then be adjusted accordingly. For example a customer who pays £5000 deposit would then make 30 kit payments of £566.50.

Additional to this, assuming a big enough order book is reached we are happy to discuss longer payment terms/deliveries to those customers who would like this as an option.

As with any new release all deposits are fully refundable until one month prior to prodution commencing. We anticipate the 6" Foden starting late Spring 2011.

All the best

Dean
---
Permissions in this forum:
You
cannot
reply to topics in this forum