Hi All
Just a photolog of the build progress for Blackbeards wagons. I will edit and add text as and when I can.
I did not take pictures of building the second chassis as it only took a couple hours.
Then it was fit all the parts to the woodwork to get all the pilot holes drilled and to make sure everything goes together as per STW normal precision.
BTW I am working on two wagons at once.
Unpack the rest of the wood to allow it to acclimatise.
Glue the end boards together.
Using the odd weight lying around to make sure it sets up flat.
Now that the sides are glued up as well. Start sorting out the metal work and masking tape attach everything on.
Lots of drilling later and all the ironwork is on the wagon bodies.
Paint time.
Turntable assemblies done. Needed filing in the tenons to allow a good snug fit. First coat of Black undercoat applied.
Have a change of colour. Going red undercoat now.
After a slight hiccup in the parts department. Namely missing 6 out of 8 wheels! Finally collected from North Yorkshire.
It is now wheel building time
Wheel Build video
And of course a coat of paint on parts.
Starting to get a depth to the undercoat.
All the wheels ready now. They are going off to powder coaters.
So the hub caps need a bit of a trim to allow for the powder thickness.
Shall I paint them orange and go clay shooting?
The metal part count is quite impressive when you are building two wagons at once.
Back to woodwork. Using the table belt sander you can see. Trim all the floorboards to fit the chassis. Leaving the end board for when the rest are glued and screwed in place.
I made a jig up to get all the screw holes in a nice line. Then I filled them all in!
Bit of a change. Etch priming of metal parts.
Then into first coat of two pack.
So far so good. No dust visible!
Next coat. Still no dust!
Looks excellent on the top but somewhat orange peel on the sides. Bugger!
Lets play with some wood instead. Belt sanders are wonderful things!
The "missing" floorboards are actually kept loose to allow the turntable pin and brake hangers to be got at. These boards will just be screwed down.
Primetime!
First black undercoat. The red chassis rails are masked off.
Back to the metalwork for their 3rd coat.
Now to leave for 7 days to fully harden.
Now that is
RED
Now that I have had a good dose of paint fumes. Lets play with chemicals.
Blacking kit.
The parts store is getting quite crowded. Need to start fitting some of this stuff together.
Second and final assembly has begun.
Spring is not in the air. Its on the ground.
Turntables put out the way while working on the wagon chassis.
Now to touching up the floor of the wagons. Get a nice crisp edge round.
Ironwork now being fitted. The red is still a bit soft so not fitting fully yet.
Hinges looking good.
Trial fit of the body panels.
Yes Brian your colour scheme does look good.
I asked Crystal if I could borrow her wagons to use as mobile work tables.
Fitting the end protectors. Paint touch up will be required.
Shaping up nicely. Will I be finished in time?
Now to put a brake on things.
Axial screw nut.
Paint the tension bolts black.
That looks nicer.
Now that does look nice.
Naming of the wagons.
Bit snug in Crystals bedroom. She did as if she could keep them as well.
Back to the brakes. Currently fitting the wheel assembly and turning the gears bosses down to allow free turning.
No you are not seeing a repeat. This is the other wagon.
Twins! Bodies are basically complete. Waiting for tow strap and wheels now.
Had to redo the hubcaps. I was not happy with the finish. There must have been a bit of dust got under the door as it was quite windy a couple nights before.
Wheels arrived!. Lets get ready for a mess.
Well not really. If you get set up correctly and clean between each wheel.
At this point things got very rushed so there was no more pictures taken until the reveal on 20th September 2014.
Last edited by lynnr on Wed 24 Sep 2014, 8:18 pm; edited 4 times in total (Reason for editing : Added text)

lynnr




Number of posts

: 3145


Age

: 52


Location

: Highland, 4inch showman


Registration date :

2010-08-06



What a lot of work!!... Good to see complete build process for a set of wagons though. Well done Lynn!!

Having seen your place, I'm amazed at how you manage to do all this stuff in such a compact area, as they say down Essex way (Where I'm from!!)... "Well impressed"!!... as I'm sure Brian &"Blackbeard" are!!

Regards,
Tony

Tony King




Number of posts

: 856


Age

: 64


Location

: scotland


Registration date :

2008-10-31



Thanks for posting Lynn,
great build thread, nice job of the wagons too.
Thanks
Kev

Kevster




Number of posts

: 418


Location

: Hertfordshire 4 inch; DCC road loco


Registration date :

2011-01-27




lynnr




Number of posts

: 3145


Age

: 52


Location

: Highland, 4inch showman


Registration date :

2010-08-06



Hi Lynn,

Thanks for posting I now know what I have in store once STW can supply my wagon kits only had kit one so far.

But well done on a superb job.
Ian

IanL




Number of posts

: 428


Age

: 65


Location

: Nottinghamshire


Registration date :

2011-07-25



Lynn has done a fabulous job in the short time she had and I can only imagine how hard she has worked on them. The last pictures of the chassis going together were kept from me so she could do a "reveal" and it certainly worked, I could not stop smiling.
Declan is now keen to put our little trailer back to living van form and add it to the train, it will need the sole bar painting red, the sides black and the window frames red to match the wagons.
Here is one more picture of the road train after unloading, it all fitted into my 10 x 6 Ifor box trailer with the bowser in one of the wagons. Just the bolts holding the iropn work onto the sides to paint and all done, rubber mats for the floor inside arrive tomorrow. Just might get some mini tarps made to cover them like a full size trailer would cover the loads.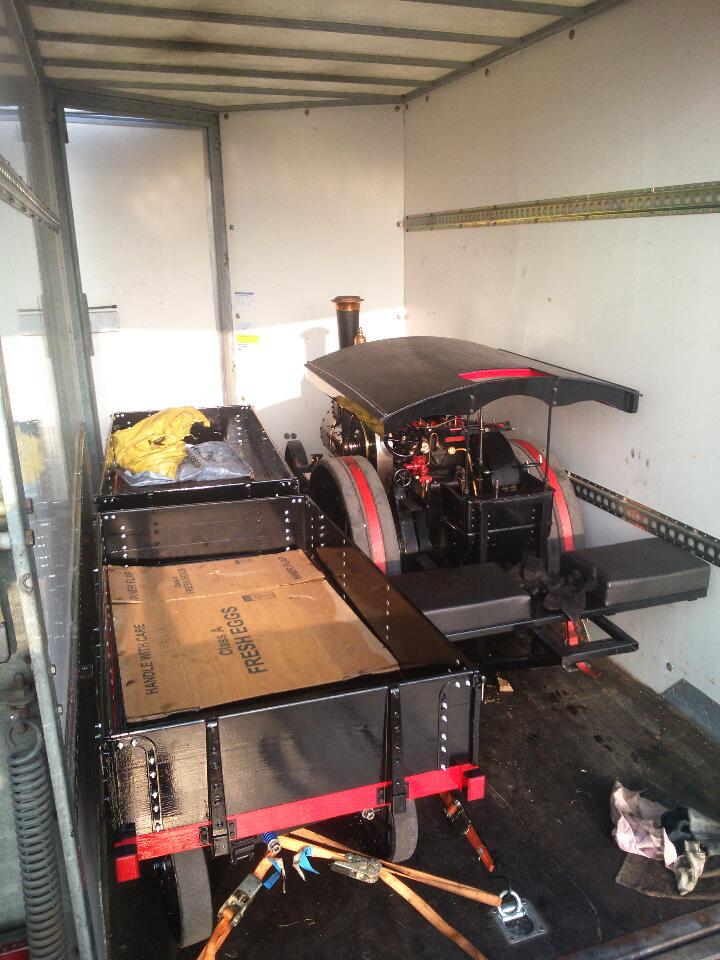 bjwlancashire




Number of posts

: 935


Location

: Mellor, Lancashire


Registration date :

2010-09-07




lynnr




Number of posts

: 3145


Age

: 52


Location

: Highland, 4inch showman


Registration date :

2010-08-06



Well just had a text from Interlink, saying I have a delivery tomorrow it's a great feeling knowing I am going to have something to unpack and work on.

Ian

IanL




Number of posts

: 428


Age

: 65


Location

: Nottinghamshire


Registration date :

2011-07-25



Sorry folks. Hit bandwidth limit of 20G do need to wait for reset.

Update. Sorted. No problem now. Unlimited bandwidth

lynnr




Number of posts

: 3145


Age

: 52


Location

: Highland, 4inch showman


Registration date :

2010-08-06



---
Permissions in this forum:
You
cannot
reply to topics in this forum