Page 2 of 2 •
1, 2
I agree with Steve not being able to see the motion may limit the demand for a Super Sentinel lorry. Lack of visible motion was the reason I selected to do the road loco when I would love to have had the likamobile
Ian

Last edited by IanL on Wed 23 May 2012, 8:01 am; edited 1 time in total

IanL




Number of posts

: 428


Age

: 65


Location

: Nottinghamshire


Registration date :

2011-07-25



Here is a picture of Bernie's 4CD, very nice it is too (he also built the 4" Dodman to the right before he did the Garrett). Additionally, I have a picture of Adrian's showman's tractor on my home PC. I will post it here when I get home from sunny Germany as it has an interesting seating position where you look through the canopy.

bjwlancashire




Number of posts

: 935


Location

: Mellor, Lancashire


Registration date :

2010-09-07



heres a vid of the garrett garrett (again not my video but i assume as its posted to youtube that the owner doesnt mind it being shared
)
just putting an idea out there - why not consider a 5 inch traction engine - considerably bigger than a 4inch but should still keep costs a good amount lower than say a 6inch showmans. i have no idea of the weight and to date i think ive only seen allchin traction engines in 5 inch scale (infact i believe there is a 5inch allchin at the beginning in the clip above?).
just be a matter of seeing if there would be a market for such a scale engine or would most people be happy with a 4inch engine?

Graeme81




Number of posts

: 178


Location

: Ireland


Registration date :

2009-05-25



Hi Guys,
Just food for thought as we've been to look at a 6" Garrett 4CD engine today.
If we were able to produce one of these for under 30k including VAT do you think it would appeal to those wanting a bigger engine (doesn't necessarily mean to you as individuals but in general). This means over 30 kits it would be around £900 per kit or over 36 kits it would be £750.
Thoughts please.
Dean
Dean,

I have been reading this post with interest as you know Brian and I have always talked about selling both the showmans to buy a full size Roller. The experience in building the kits has given us a good insight into how an engine operates. I think if you produced an engine much bigger then you would have to reduce the size of cost to around the £759 a month and no more or have a heavy down payment. Producing a 6" is a very interesting thought, but for me the only option would be a showman. I don't think I would go from a 4" SM to a 6" CD (besides the road runs would be easier, I think!). I have been saving £650 a month from my wages and I got to say it has been hard at times any more than £750 and you would need to be living at home rent free no kids etc or be on very good wage. The last alternative would to have a loan, again this has draw backs.

All the comments on here have been interesting as I have said because the STW community has given you lots of ideas, it will be interesting to see which way you develop your portfolio as some people say 'you need to expand your business to stay in business' and some people say 'know your market...'




Flasback




Number of posts

: 191


Location

: Cheshire


Registration date :

2011-01-30



I like my 4" Burrell. I have been a Burrell man for 40 years. It isn't too heavy to maul about. It goes in my Ifor Williams BV85 trailer very nicely and it can haul all the family round rally fields and on road runs I am quite happy thank you. So I'm not going to start again at my time of life. Certainly not with a bigger, heavier engine.

Now, I have always liked the full size Garrett 4CD and toyed with the idea of getting one quite a few years ago but there weren't any about then and no one was making them. Curiously though, I find the 6" Garrett not as nice looking as the full size. I can't tell you why and I know they go well, so it is probably just me. Their numbers are growing - you see more about.
On the other hand, I have always thought that small Aveling Tractors look a very nice engine. They handle well, are beautifully proportioned and I have don't think I have ever seen a 6" version. Rare as hens teeth then. Not much heavier than a 4" Burrell GP engine I would think and therefore is likely to be the optimum size for handling. It should also have a reasonable turn of speed on the road. More to it than a single 6" Ruston but it might be worth looking at. Especially if no one else makes them. Just a thought.

Atlas




Number of posts

: 9


Registration date :

2008-11-01



Dean
Considering there is a second hand 6" Garret 4CD up for sale at over £40k, you have a bargain. Currently the price of your 4" kits is around the price of a finished model. You might want to make it more than 36 kits and spread the cost more given the monthly cost at 36 kits.
Here are a couple of photos of Adrian Nutting's showmans tractor version - note the seating position he has and also note the van behind it that it fits in, not to difficult to transport. Also, it is parked next to two 4" agricultural engines in the first picture for comparison.





bjwlancashire




Number of posts

: 935


Location

: Mellor, Lancashire


Registration date :

2010-09-07



A number of comments have suggested that a 6" scale Burrel is logistically comparable to a full sized engine. As the owner of a small full sized roller I don't think this is the case.
A 6" Burrell wieghing in at about 2 1/2 tons could be loaded onto a decent car trailer a towed behind a big 4x4. A Land Rover can tow 3 1/2 tons in standard format and 4.2 tons if the brakes are coupled. Alternateely a large van or 7.5 ton flatbed lorry could be used. For both of these, those lucky enoughh to have passed their driving test before 1997 would not need any additional license. Additionally all of the parts could be lifted on and off of the engine with a good quality engine crane.
A small steam roller will weigh a minimum of 6 tons and either need to be driven on the road or moved using a commercial vehicle and ideally a low loader. In either case additonal driving tests and licenses are required, group G to drive the roller on the road and LGV class II or I for the commercial vehicle. For maintanence involving removing major items some form of heavy duty lifting equipment is required, we used a 3 ton gantry crane when overhauling my engine.
Personally I would love a 6" road loco, it would have to be a Fowler though. Unfortunately my wife would not allow it as I am already building the 6" Foden lorry.
[img]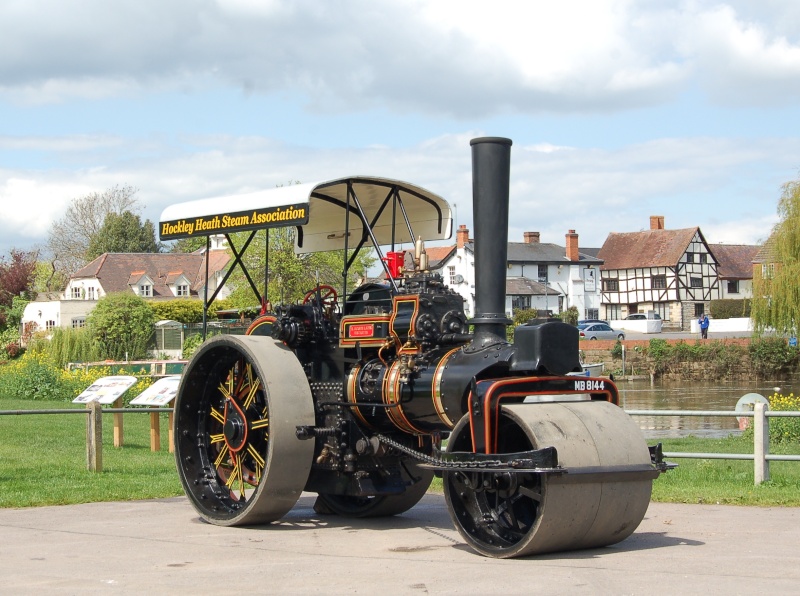 [/img]
My little roller

PaulA




Number of posts

: 13


Age

: 58


Location

: Evesham, Worcestershire


Registration date :

2011-12-17



Page 2 of 2 •
1, 2
---
Permissions in this forum:
You
cannot
reply to topics in this forum