It was good to see on page 77 of the current Old Glory magazine an article about Kevin Chambers's road loco His Majesty, at Basingstoke. The pictures gives great credit to all the hard work Kevin has put into building his road loco. It also shows what can be achieved from a 'kit'. It was also interesting to see the progress Kevin has made with his mechanical organ Pride of the South. Well done Kevin and I look forward to seeing you at a steam rally this year and having a cup of tea.
I am not certain if it was done by design but on the same page is an article about the National Traction Engine Trust representing the interests of miniature traction engine owners which is good news.

Bill

Last edited by burrell1 on Mon 13 May 2013, 10:03 pm; edited 1 time in total

burrell1




Number of posts

: 156


Location

: Clacton, Essex


Registration date :

2008-06-19



I have already had a phone call from The Coleman about this article, disappointingly despite being a subscriber I always seem to be a day behind in delivery


Don't know why? But it should arrive tomorrow and I will enjoy seeing this. It always nice to get a bit of coverage and I am very proud of the heritage of the engine and make no qualms about telling people how pleased I am with STW and the engine despite not always enjoying every element of construction. It was a good weekend to start the year and the weather let us have a good time on the Sunday. The organ was also well recieved.
This past weekend I attended the Vintage Rally at Amberley Working Museum with the engine and organ and had very good feedback especially on the organ as another exhibitor has been around organs all his life and has a good pedigree having restored a Ruth to its former glory and built a 700+ pipe machine with another chap and commented on what a lovely tone and sound it generates despite its small size which tells me all I need to know. Hopefully when it gets a few more rallies and people actually hear it I will pick up an order.
Stupidly forgot the camera but then remembered the phone can do that!!! This is the organ hooked up with a quick makeshift pole to pull it to the location for it to play. It managed 5 hours continuously quite happily on the battery but a bigger capacity would easily give a full days playing.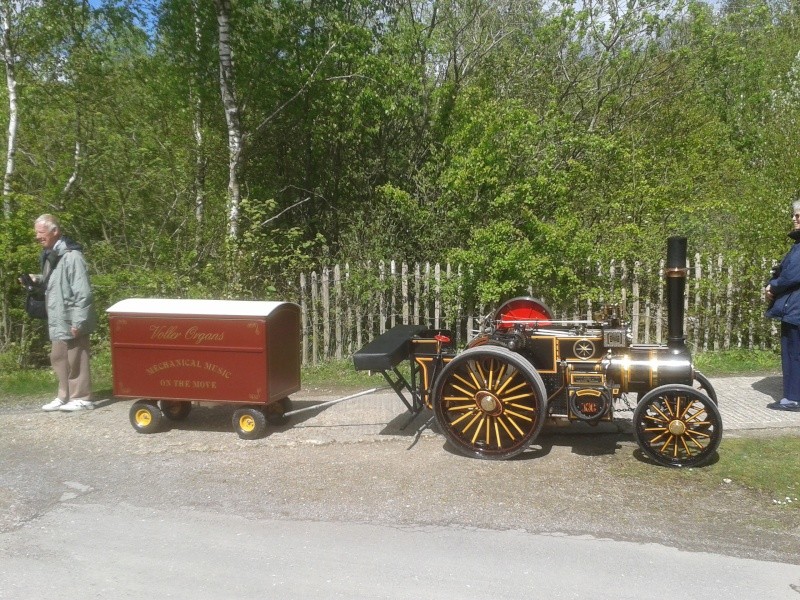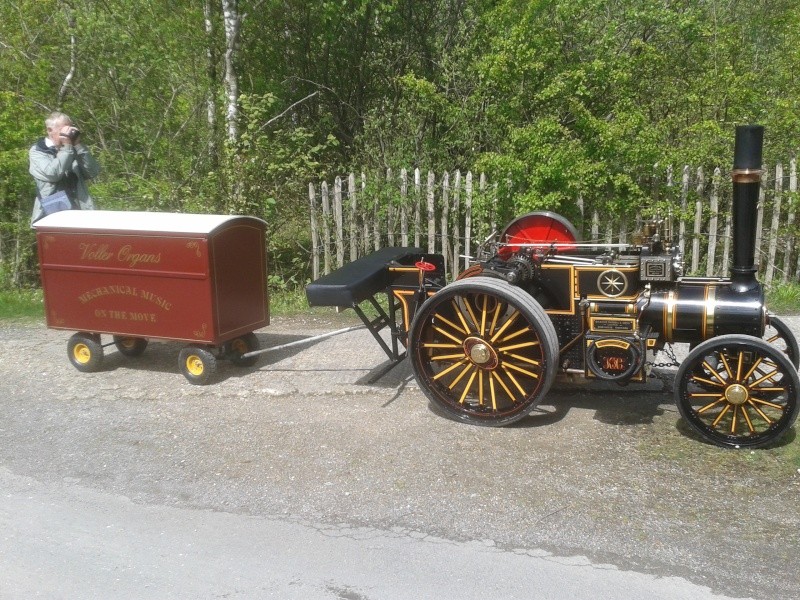 nice one kev it must be Bognor I havnt got mine yet either


hippy dave




Number of posts

: 188


Location

: bognor regis


Registration date :

2011-07-31



Just got home and seen this article, what a very nice guy to chat to and he has made a super job of the words to accompany the pics, hopefully will get a bit more positive press for STW. Even got my new RL cup in the shot!!!

The Coleman will confirm that we bumped into a guy at Basingstoke who I have met before and he is a very dismissive person with regard to kit built engines. Really pissed me off as he isnt building an STW engine, he has been building one from castings and has been at it for some time, certainly wasnt present. He has a guy in his ME who is building an STW RL and couldnt wait to crow on about the cylinder casting issue, I stood up for Steve et al and said how pleased I was with the service etc, and that despite issues they are always very quick to sort but he wouldnt have it and was clearly looking for a fight, Andy walked off and in the end I told him to F O.


There are always going to be some that wont change their mind but as more engines get out and about they will certainly show what an excellent creation they are.
Really looking forward to the Banbury do, what a great shot that will with as many STW engines as we can get in one place!
Hi Kev,
Well done mate, all credit to you on a superb job.
I wouldn't let that wanker at Basingstoke wind you up mate. I've got to the point where I've started to let it go over my head, which for me is a huge achievement. One of our apprentice lads was approached last weekend by three different individuals at a rally all of whom didn't realise he worked for us and went on to tell him we'd gone bust.......this obviously came as a suprise to him as the previous day he'd clocked out without even realising!!

. Some people must live to hope we fail & have nothing better to do!!
Be interesting to see the guy at Basingstokes engine when it's finished. Wonder if his block should have a blind bore like ours and if it should, whether he does it that way or goes for the cylinder covers on both ends which would then be wrong.....also love to see him attempt a block with 29 cores.....i'll be the first one to laugh and criticise after he's spent probably a year of his life machining a block for it to go in the bin......
I'm also really pleased you got yours finished and will be enjoying it before you die, unlike him probably!!
Yes that's me letting it go!! I normally don't mince my words!
Anyway back to the real subject......your article and engine....
I hope you and all the others who have put hundreds of hours hard work are proud of a what you've achieved.........I know we are and we are proud to say we were a part of it.
WELL DONE TO EACH AND EVERY ONE OF YOU.......YOU DESERVE IT.
Dean
Last edited by Steam Traction World on Tue 14 May 2013, 9:50 pm; edited 1 time in total
We couldn't do it without you guys in the factory.

My OG came yesterday and was surprised to see you in there Kevin, not because you don't deserve it but miniature engines are not normally represented very often in the Magazines so lets hope there will be a bit of a shift in our direction. I am not sure of the numbers, but there must be as many (if not more) model engines out there now as there are full size. Certainly many of the rallies round here have more miniatures.

Well done though it looks great, and hope to see it on the field. Nearly came down to Amberly the weekend but went to Breamore House on Sat (Mr Knotts Crane Engine looks fantastic) and Basingstoke Festival of Transport on the Sunday.

Are you going to be at Bill Targets Rally at the weekend Kevin?

As an aside there is also a STW 4 1/2 inch Foden for sale in the same edition.

Thanks Dean, made me chuckle, and exactly my thoughts about people just wanting you to fail, sad world really.

Rob, No wont be at Bill Targets, was on last years cancelled list but didnt get an invite this year but something else is on this weekend and I still want to be married by the end of the year, I cant go to every one!!! Going to Laughton at the end of the month, then three dos in June, two in July, something every weekend in August plus now GDSF and then three in September!!! Wont be at home much!!!
Congratulations Kevin, sorry I am a bit late responding, been doing other things and am now back on the case as my cylinder block will be here tonight

Good coverage for you and the organs, very positive. I hear there is another cup awarded to an STW engine, as mentioned on the home page Rick Calcott got one in Dorset at the weekend - apparently his was the only kit built engine there too. If this carries on then so will the criticism of kits, a bit of Man Utd. type jealousy will set in.

Are you going to Banbury? I am assuming yes as the coleman states he is. Looking forward to lining up with all the other Road Locos.
Cheers
Brian

bjwlancashire




Number of posts

: 934


Location

: Mellor, Lancashire


Registration date :

2010-09-07



Yes Rick's engine was the only kit engine from eighteen i believe. BEST IN SHOW has a nice ring to it.
So to the guy who was critical about kit built engines at Basingstoke
IN YOUR FACE!!!!





Childish i know but C'est la vie!!!

Dean
Hi highpressure.

I have a most enjoyable morning up at amberly museum that weekend.
Thank you for spending time talking to me, very helpful.
I have some picture of your engine from that weekend i can post here if you like.
Hope you did not get wet in the afternoon, it rained in pagham.
P.S.
First time at the museum.

Phil.

whitchway




Number of posts

: 12


Location

: Pagham, west sussex


Registration date :

2011-12-03





Similar topics
---
Permissions in this forum:
You
cannot
reply to topics in this forum