Hi everyone,
well I thought it time to get some pictures up of the 2" and my locomotive. unfortunatly my camera is on the blink and new one on it's way so rubbish phone pics just now..
All name plates you can see are etched by me too including Lilla and her works plate.
The Burrell in it's current state.. if you squint hard enough it could almost be a 4" scale!!! lol
Underneath the cylinder you'll see the 2" wash out plate next to the 4" scale plate and my name plate is now mounted to the wood tool box. all hand lined with a brush and enamal paints.
I made the wheels backwards in that I painted all the parts first before putting the wheels together so all spokes were lined and then mounted to the hub and rim. this gave better access for lining the spokes freehand.
And my other lady in my life my 3.5 inch gauge Lilla thats goes like the clappers and will pull 6 people with ease..

taken on my old camera when it was working!! all hand lined with enamal paints.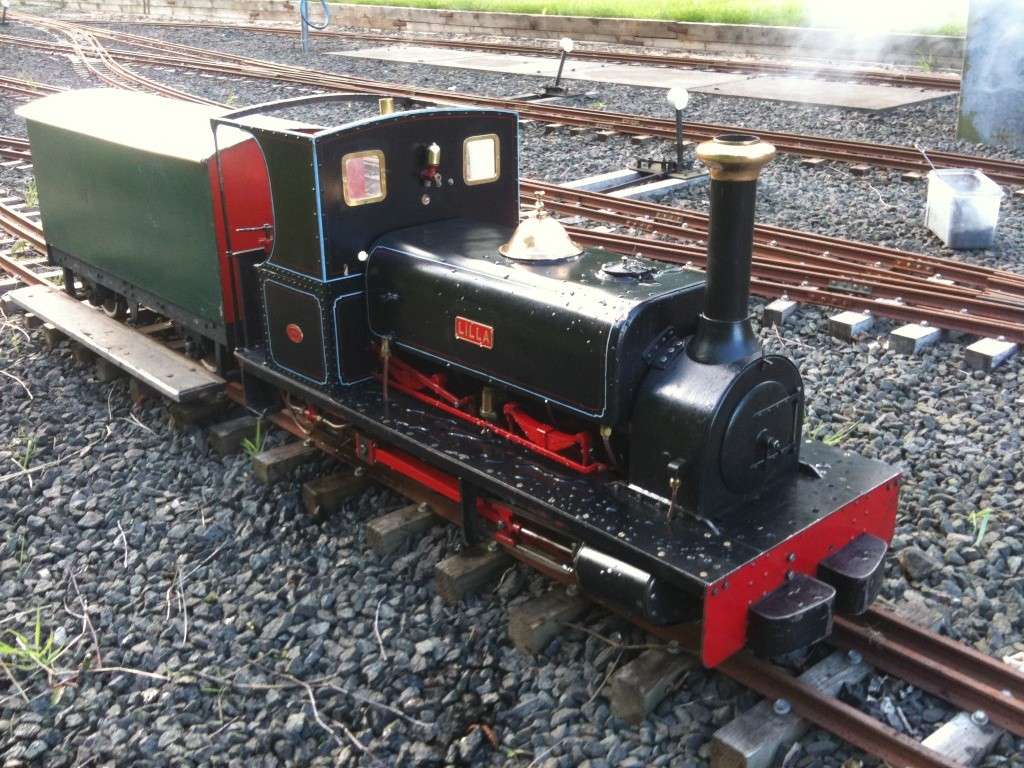 More to come once i get my new camera.
Last edited by northburrell on Wed 23 Nov 2011, 11:00 am; edited 1 time in total

northburrell




Number of posts

: 197


Location

: edinburgh


Registration date :

2008-10-15



Nice Burrell and good luck with the plates. You must have been very careful assembling the rear wheels after painting them

Have you steamed it yet? Put some pics or a video on here too.
If that was 4" scale it would be a bloody big radiator

Good to see peoples other interests, as well as the fairground rides I am also into miniature locomotives too but 7 1/4" scale, 3 1/2" scale at ground level would kill my back. I do have a part built BR Standard 5 in the garage but the Burrell Road Loco is taking preference for now.
Cheers
Brian

bjwlancashire




Number of posts

: 934


Location

: Mellor, Lancashire


Registration date :

2010-09-07



Thanks Brian,
ye i'm 6foot 3 and it's a little hard for me some times to be honest on the ground level track. Lilla is narrow gauge based so the model is the size of a 5" gauge locomotive, I can just about carry her about and drop it in the car but i wont be doing that with the Burrell as it's just too heavy.
I'm really tempted by a bigger traction engine though. I'm going to steam the 2" and see how she is performance wise and then i'll decide. all sorts of things change if I go for a 4" in that it wont fit down my side path to the back garden and will need to stay in the Garage thats pretty much full with a Sports car.

needing a trailer to tow the thing but I think it would be worth having a bigger engine too.
ye the spokes were so buch better to line off the wheel. you'll see the front wheels are done built up and i've only lined one spoke half and one wheel is not painted.. I've not steamed her yet as the pic probably doesnt show that the left rear wheel is missing and not even built yet!! I used washers on the rear of the rivet bolts so the nuts didnt take the paint off the rim and spokes when tightened down. I didn't opt for the "epoxy the spokes in" bit of the instructions as I feel there is really no need if everything is done up nice and tight.
getting there though slowly so much to do but no time to do it.


northburrell




Number of posts

: 197


Location

: edinburgh


Registration date :

2008-10-15




---
Permissions in this forum:
You
cannot
reply to topics in this forum